Releases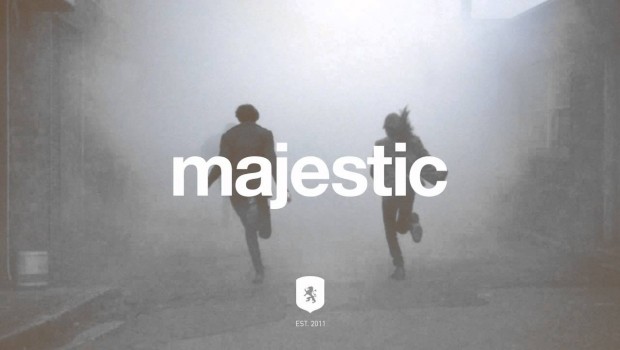 Published on November 7th, 2013 | by arghtee
0
Majestic Casual – Chapter 1
Majetic Casual have grown to become one of the largest Youtube music channels, and are probably the most popular at the moment. With over 220 Million views for a channel which, for the most part, posts static images of white girls with an instagramish filter, is very impressive. Majestic's success is hard to chart, however my own personal guess is that it would have to do with the tone of the music. Majestic Casual is the perfect channel to put on in the background, should you just be relaxing at home, with your girlfriend/boyfriend or just with mates. If anything its more of a playlist than a channel. What's more, whilst the images of white girls is now overused and now a bit cliche, it is important to note that Majestic were one of the first to start the trend, and I feel that many people were drawn in by this trend.
Nonetheless Majestic Casual are truly pioneers with the way they approached Youtube music videos, and it will be interesting to see where they will take the channel next. I fully expected video's will be on Majestics horizon, but it will be interesting to see if they shall stick to the same sound or if they will try to evolve.
Released: 10th November 2013
thepurplebay favourites: Tantsui – Beautiful Day
Press Release:"Arguably one of the biggest resources for those easy listening dance jams that are all the craze right now, Majestic Casual, will be releasing it's first album next month, highlighting an impressive handful of tracks that have serenaded the YouTube Channel since its birth last year.
Founded by a young musical connoisseur called Nick in his Stuttgart home around 18 months ago, Majestic Casual has quickly grown to become one of the most renowned and respected sources for new music, artists and sounds, with over 1 million subscribers tot their YouTube channel and counting. For those who aren't already in the know, Majestic essentially posts tracks from countless musical talents (that have included Disclosure, Toro Y Moi, Bondax, Snakehips and Australia's own Cosmos Midnight) and gives these feature artists a huge bump in the right direction- not too mention a massive new audience.
The Majestic Casual Chapter 1 is set to be released on November 10, with a stellar 40 song track-list highlighting a collection of close-to-perfect tunes that have graced the YouTube channel over the past 18 months."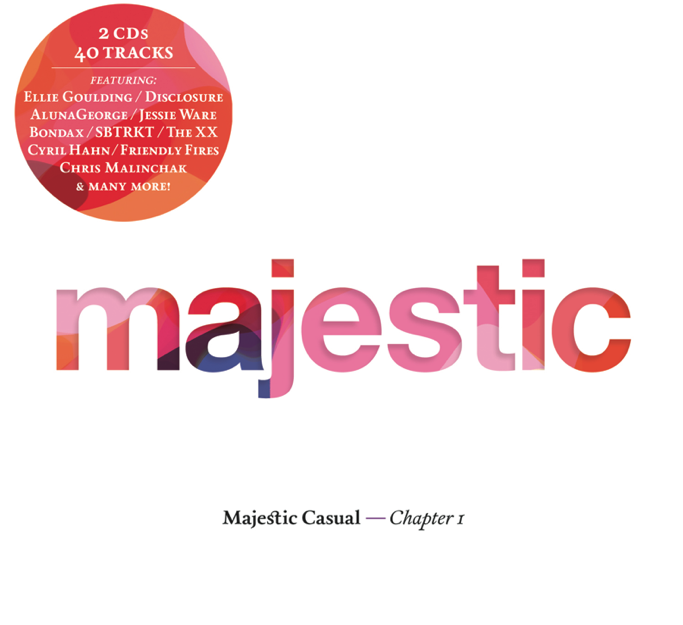 Download: Junodownload – Amazon (UK) – iTunes (UK) (US)
Tracklist:
CD1
1: Ellie Goulding – Tessellate
Audio clip: Adobe Flash Player (version 9 or above) is required to play this audio clip. Download the latest version here. You also need to have JavaScript enabled in your browser.
2: Flume Feat. Jezzabell Doran – Sleepless 
Audio clip: Adobe Flash Player (version 9 or above) is required to play this audio clip. Download the latest version here. You also need to have JavaScript enabled in your browser.
3: Friendly Fires – Hurting (Tensnake Remix) 
Audio clip: Adobe Flash Player (version 9 or above) is required to play this audio clip. Download the latest version here. You also need to have JavaScript enabled in your browser.
4: SBTRKT Feat. Sampha – Never Never 
Audio clip: Adobe Flash Player (version 9 or above) is required to play this audio clip. Download the latest version here. You also need to have JavaScript enabled in your browser.
5: AlunaGeorge – Your Drums, Your Love 
Audio clip: Adobe Flash Player (version 9 or above) is required to play this audio clip. Download the latest version here. You also need to have JavaScript enabled in your browser.
6: Chris Malinchak – So Good To Me 
Audio clip: Adobe Flash Player (version 9 or above) is required to play this audio clip. Download the latest version here. You also need to have JavaScript enabled in your browser.
7: Tantsui – Beautiful Day (Dub Mix) 
Audio clip: Adobe Flash Player (version 9 or above) is required to play this audio clip. Download the latest version here. You also need to have JavaScript enabled in your browser.
8: WEKEED – Wild Child 
Audio clip: Adobe Flash Player (version 9 or above) is required to play this audio clip. Download the latest version here. You also need to have JavaScript enabled in your browser.
9: Mitzi – All I Heard 
Audio clip: Adobe Flash Player (version 9 or above) is required to play this audio clip. Download the latest version here. You also need to have JavaScript enabled in your browser.
10: New Navy – Breathe (Télépopmusik Cover) 
Audio clip: Adobe Flash Player (version 9 or above) is required to play this audio clip. Download the latest version here. You also need to have JavaScript enabled in your browser.
11: Mesita – Somewhere Else
Audio clip: Adobe Flash Player (version 9 or above) is required to play this audio clip. Download the latest version here. You also need to have JavaScript enabled in your browser.
12: Classixx – Holding On 
Audio clip: Adobe Flash Player (version 9 or above) is required to play this audio clip. Download the latest version here. You also need to have JavaScript enabled in your browser.
13: The Bilinda Butchers – All My Friends 
Audio clip: Adobe Flash Player (version 9 or above) is required to play this audio clip. Download the latest version here. You also need to have JavaScript enabled in your browser.
14: Observer Drift – Warm Waves 
Audio clip: Adobe Flash Player (version 9 or above) is required to play this audio clip. Download the latest version here. You also need to have JavaScript enabled in your browser.
15: Passion Pit – Constant Conversations 
Audio clip: Adobe Flash Player (version 9 or above) is required to play this audio clip. Download the latest version here. You also need to have JavaScript enabled in your browser.
16: Bondax – Gold (Snakehips Remix) 
Audio clip: Adobe Flash Player (version 9 or above) is required to play this audio clip. Download the latest version here. You also need to have JavaScript enabled in your browser.
17: Thomas Prime Feat. Awon – Believe In Us 
Audio clip: Adobe Flash Player (version 9 or above) is required to play this audio clip. Download the latest version here. You also need to have JavaScript enabled in your browser.
18: Strong Arm Steady Feat. Phonte – Best Of Times 
Audio clip: Adobe Flash Player (version 9 or above) is required to play this audio clip. Download the latest version here. You also need to have JavaScript enabled in your browser.
19: Satin Jackets – You Make Me Feel Good 
Audio clip: Adobe Flash Player (version 9 or above) is required to play this audio clip. Download the latest version here. You also need to have JavaScript enabled in your browser.
20: The Lighthouse and The Whaler – Venice 
Audio clip: Adobe Flash Player (version 9 or above) is required to play this audio clip. Download the latest version here. You also need to have JavaScript enabled in your browser.
CD2
1: Delilah – Inside My Love (Redlight Remix)
Audio clip: Adobe Flash Player (version 9 or above) is required to play this audio clip. Download the latest version here. You also need to have JavaScript enabled in your browser.
2: Pedestrian – Hoyle Road 
Audio clip: Adobe Flash Player (version 9 or above) is required to play this audio clip. Download the latest version here. You also need to have JavaScript enabled in your browser.
3: Disclosure Feat. Sam Smith – Latch 
Audio clip: Adobe Flash Player (version 9 or above) is required to play this audio clip. Download the latest version here. You also need to have JavaScript enabled in your browser.
4: Jessie Ware – 110% 
Audio clip: Adobe Flash Player (version 9 or above) is required to play this audio clip. Download the latest version here. You also need to have JavaScript enabled in your browser.
5: Ain't No Love – Love Me Lots (Bridge & Law Remix)
Audio clip: Adobe Flash Player (version 9 or above) is required to play this audio clip. Download the latest version here. You also need to have JavaScript enabled in your browser.
6: Goldroom Feat. Chela – Fifteen (Oxford Remix) 
Audio clip: Adobe Flash Player (version 9 or above) is required to play this audio clip. Download the latest version here. You also need to have JavaScript enabled in your browser.
7: Paradis – Hémisphère 
Audio clip: Adobe Flash Player (version 9 or above) is required to play this audio clip. Download the latest version here. You also need to have JavaScript enabled in your browser.
8: The XX – Crystalised (Dark Sky Remix) 
Audio clip: Adobe Flash Player (version 9 or above) is required to play this audio clip. Download the latest version here. You also need to have JavaScript enabled in your browser.
9: Work Drugs – License To Drive 
Audio clip: Adobe Flash Player (version 9 or above) is required to play this audio clip. Download the latest version here. You also need to have JavaScript enabled in your browser.
10: Banks – Warm Water
Audio clip: Adobe Flash Player (version 9 or above) is required to play this audio clip. Download the latest version here. You also need to have JavaScript enabled in your browser.
11: Sampha – Without 
Audio clip: Adobe Flash Player (version 9 or above) is required to play this audio clip. Download the latest version here. You also need to have JavaScript enabled in your browser.
12: Lights – And Counting 
Audio clip: Adobe Flash Player (version 9 or above) is required to play this audio clip. Download the latest version here. You also need to have JavaScript enabled in your browser.
13: Stwo – Lovin U 
Audio clip: Adobe Flash Player (version 9 or above) is required to play this audio clip. Download the latest version here. You also need to have JavaScript enabled in your browser.
14: Nosaj Thing Feat. Toro Y Moi – Try 
Audio clip: Adobe Flash Player (version 9 or above) is required to play this audio clip. Download the latest version here. You also need to have JavaScript enabled in your browser.
15: Houses – Soak It Up 
Audio clip: Adobe Flash Player (version 9 or above) is required to play this audio clip. Download the latest version here. You also need to have JavaScript enabled in your browser.
16: Bijou Winters x Leian Limms – Skin Sketches (Kyson Remix)
Audio clip: Adobe Flash Player (version 9 or above) is required to play this audio clip. Download the latest version here. You also need to have JavaScript enabled in your browser.
17: Toro Y Moi – Cake 
Audio clip: Adobe Flash Player (version 9 or above) is required to play this audio clip. Download the latest version here. You also need to have JavaScript enabled in your browser.
18: Tropics – Home & Consonance 
Audio clip: Adobe Flash Player (version 9 or above) is required to play this audio clip. Download the latest version here. You also need to have JavaScript enabled in your browser.
19: Gabrielle Aplin – Please Don't Say You Love Me (Cyril Hahn Remix) 
Audio clip: Adobe Flash Player (version 9 or above) is required to play this audio clip. Download the latest version here. You also need to have JavaScript enabled in your browser.
20: Joe Hertz – At Your Touch 
Audio clip: Adobe Flash Player (version 9 or above) is required to play this audio clip. Download the latest version here. You also need to have JavaScript enabled in your browser.