Interviews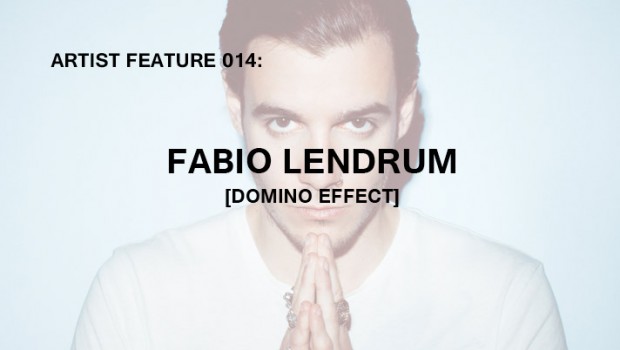 Published on January 15th, 2015 | by Lex
0
Artist Feature 014: Fabio Lendrum [Domino Effect]
For our first interview post for 2015 we caught up with the undeniably talented Fabio Lendrum, who last year released a well crafted, unfaultable EP on Domino Effect titled "Overtime EP". His refined sound and catchy deep-tech sounds fit together to create dancefloor masterpieces, making even the most resentful want to learn how to shuffle. We are expecting many great things from him this year. Read the interview below!
How old are you & How did you get into producing music / how long for?
I am 23, and i've been producing music for about 8 years now but only in the past two year have I taken it very seriously. Before it was hard as I was a singer/songwriter and most of my energy was spent doing that.
What was the reasoning for using your name 'Fabio Lendrum', rather than an alias?
Erm.. it's kind of a weird name – don't ya think?
Who are your musical influences?
It's hard to say really, I tend to listen to a range of music. With regards to house I would say Martinez bros, Samu.l, and Cristoph. Although these are darker and more underground artists than what the Overtime EP sounds like, it's definitely what i'm slowly trying to craft.
In what ways would you advise budding bedroom producers to get themselves "out there"?
I reckon 80% of the money you make (after you've paid for your rent and food) should always go back into your studio or anything that inspires you to want to be a better producer. I recently got back into buying vinyl – I can't believe I forgot how good it sounds!

If you could compare yourself to an already established artist, who would that be and why?
Kanye West? haha just kidding – It's impossible to say really as I always try and avoid comparing myself to anyone. It can be pretty detrimental to your confidence.
Where do you usually gather songwriting inspiration? What is your usual songwriting process / software?
I try and write everyday. The more time I have, the happier I am, and if one day the magic happens then the phone gets put on silent at the other end of the room and the wifi is turned off. I use logic but I like to take a lot of the writing process out of the computer with sequencers, and analogue synths/equipment. I even go as far as recording egg shakers and my own snares and claps.

How do you go about "refining your sound"?
As I mentioned before I started buying vinyl again and what I realised is a lot of these underground house tracks are all about the groove (cheesy I know but so true). So when I make a track I try and feel it rather than concentrate too much on the theory or melody.
What would you say is your signature sound or style?
The last EP was very Bass & House style but I'm trying to get a whole lot deeper and darker.

What do you think about online music sharing? Do you ever give your music away for free? Why?
Its such a tricky one isn't it? I always think about myself as a broke teenager and being able to obtain that track without having to pay. If I had never managed to get that track and overplay the shit out of it on my iPod I probably would've moved onto something that I could get my hands on and not have become such an avid fan of the track/artist I really wanted. At the same time, as a producer/songwriter, we gotta get paid right? It's a fine balance between promotion and making a living, but free music is great and now I always see buying music as putting back into the industry that I work in so it makes sense.
What do you think your listeners will get out of your music?
Dance, dance, dance. Maybe a lil shuffle if that's your thing and you're not bothering anyone in the club.
We love your latest EP release titled 'Overtime' what were you thinking about / Inspired you when this was developed?
Originally I had written most of the track with the drums piano and vocal but it had a totally different bassline. I had just moved into a studio which my great friend A-Minor had hooked me up with over the summer. He is very musical and a great lover of catchy melodies so I reckon I absorbed some of that as his studio was right next to mine. The bassline was rewritten and finally the track got what it deserved.
How did you land your first EP signing with Domino Effect? What has the experience with them been so far?
I was supporting them in this festival in Amsterdam and we were the only British people there so naturally we all ended up hanging out. When I got back to London I sent them Overtime and they immediately wanted to sign it. I really respected how driven and hard working they were towards their label and production so it made perfect sense!
What support do you have so far from your songs so far?
Hmmm I guess the key players for me would be Sam Divine, D.Ramirez and Vanilla Ace. I'm sure there are a few others but I can't remember right now so sorry if I've offended anyone as all your support counts regardless of who you are!! Press wise, not sure if this counts but Overtime got to No.1 on trackitdown.net which I was super happy about as you can imagine!
What are you currently working on for 2015?
I've got a bunch of stuff (singles and EP) ready to go and have had a couple of bites but it's all under wraps for the moment. I would love to do an album but I don't have the time unfortunately.
Who else have you produced for (If any)? What was your favourite track to work on / who with?
I engineer for a few people/friends but that's all confidential, all I can say is Cuff and Ministry of Sound. My brother from another mother Freddie (Artist name: Bombido) is a super talented guy who hasn't released yet but I'm sure he'll make a huge dent when he does!!
What's your favourite tracks to listen to / include in your mixes at the moment by another artist?
The new Reverse People EP by Catz 'N Dogz is my jam right now.
Where has been your favourite venue / crowd to play for so far?
Definitely that festival I played in Amsterdam last year. Gotta love the Dutch, they're so chill!
Where can we see you playing next!?
About to confirm a few things – I will let you know. Watch this space!
What are your future plans / goals / aspirations?
My aspirations are (not necessarily in this order) Amsterdam (again), Ibiza, Berlin, Essential new tune (Pete Tong BBC Radio 1) and a few vinyl releases. Also trying to delve deeper into what the UK has to offer as well as some collabs.
Any shoutouts you'd like to make / thanks?
To my homie A-Minor, my girlfriend (for understand my need to constantly be in the studio) and my best mate Howie.
Listen & Download Fabio's "Overtime" EP below:
<strong>Follow Fabio:</strong>
<a title="Facebook" href="https://www.facebook.com/MrFabioLendrum" target="_blank">Facebook</a>
<a title="Twitter" href="https://twitter.com/fabiolendrum" target="_blank">Twitter</a>
<a title="Soundcloud" href="https://soundcloud.com/fabiolendrum" target="_blank">Soundcloud</a>