Interviews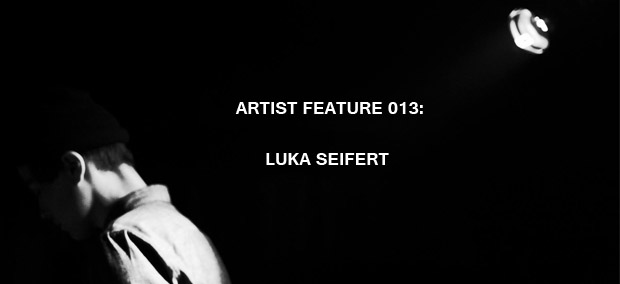 Published on November 26th, 2014 | by Lex
0
Artist Feature 013: Luka Seifert [Annie Mac FMM]
This week we interview the upcomming German producer named Luka Seifert. Having recently been featured as part of Annie Mac's FMM (Free Music Monday) with his release titled 'LOSS' feat. Bad America, we fell in love with the melodic, relaxed production style that has a sense of added depth every time you listen to the track. Luka has been featured in XLR8R and i-D for a mix. Read on below for our short but sweet interview with the busy producer – watch this space!
How old are you & How did you get into producing music / how long for?
I'm 23. I started playing the piano and the guitar as a kid. I started playing in bands. One of my bands was a two piece. I wrote the music. Mainly on guitar and piano. We didn't have a drummer so I started making beats for the backing tracks. At some point I decided that I wanted to do my own thing.
What was the reasoning for using your name 'Luka', rather than an alias?
It's short and simple. Wouldn't know why I should use an alias. I used to play in bands or have other projects under a different name but this right now is what I really stand for.
Who are your musical influences?
I listen to a great range of music. I love the blues and listen to a lot of blues rooted music. Zeppelin, The Stones, Hendrix..
nothing will influenced me as much as those bands I listened to when I was 13. But I also listen to loads of electronic music.
I like a lot on Tri-Angle for example.
If you could compare yourself to an already established artist, who would that be and why?
I don't really like to compare music. Everybody's just doing their thing.
Where do you usually gather songwriting inspiration? What is your usual songwriting process / software?
I like to jam around. I prefer an actual instrument than starting on the laptop. The software I use for recording & mixing as well as live is Ableton. I prefer to not work too long on one idea. I usually go with my first intuition. Got a Tumblr where I post inspirations.
What would you say is your signature sound or style?
I usually keep it laid-back. Mainly half-time. Rarely 4 to the floor.. I like a melancholic touch.

What do you think about online music sharing? Do you ever give your music away for free? Why?
I love to share music online. I just gave away a track on Annie Mac's Soundcloud. I like new ways of selling music.
I remember Radio Head's In Rainbows. I remember you could pay as much as you want for it. That was so cool.

What do you think your listeners will get out of your music?
I don't really care that much about the vocals/lyrics. It's not supposed to have a message. Hopefully they feel something deeper than lyrics can explain. Most people find it difficult to dance to. That's fine with me. I didn't expect people to actually listen to what I do anyways. I'm really surprised about all the positive feedback.
We love your latest free release as part of Annie Mac's FMM (Free music Monday) titled 'Luka Feat. Bad America – Loss' what were you thinking about / Inspired you when this was developed? How did Annie mac discover this and release it as part of her series?

Bad America is a good friend of mine. He lives in Montreal and we've never met before. I wrote to him quite some time ago that I love his work. He also liked my stuff so we decided to send a beat back and forth. I really enjoy working with him. He's so talented.
We decided to give it away for free and Annie liked it.
What support do you have so far from your songs so far?
I went on tour with The Acid recently. They showed so much love. Such great guys. They are really supporting what I'm doing which means a lot to me. I'm happy to have had the opportunity to support quite a few other nice acts this year. Chet Faker, SOHN, Dauwd, Gold Panda…
There's also some recent press…
However I try to not focus too much on press. I'm happy they help me to get my music out there but that doesn't really mean more to me than any kid listening to my tunes.

Is your outlook for the future based around solely production, or do you plan on incorporating your music into live performances?
I love playing live. I did quite some touring this year. I have two shows in London coming up. 29th of NOV at Village Underground and 8th of DEC at Birthdays. I just brought the guitar back into my live set. I'd love to have a live drummer on stage with me.
I like to change the live set up. Don't wanna get bored.
What are you currently working on?
Just finished my second EP. Hope to release it late winter/spring.
Who else have you produced for? What was your favourite track to work on / who with?
I really like producing for other artists. Did it quite a lot lately but nothing is out yet so I guess I'm not supposed to speak about it. I can't really say which track I enjoyed working on most. I always enjoy making music. That's why I'm doing it.
What's your favourite track to listen to / include in your mixes at the moment by another artist?
I don't really listen to my own music. Mixes are fine. I like the i-D mix I did. It's pretty chill. However I prefer to listen to mixes by other artists.
Where can we see you playing next!?
2 London shows coming up. 29th of NOV at Village Underground and 8th of DEC at Birthdays..
I'm flying to the US in spring. Nothing announced yet though.
Any shoutouts you'd like to make / thanks?
Thanks for your interest in my music mate. Really means a lot to me.

Listen & Download Luka's FMM for Annie Mac track below:
Follow Luka Seifert below: