Interviews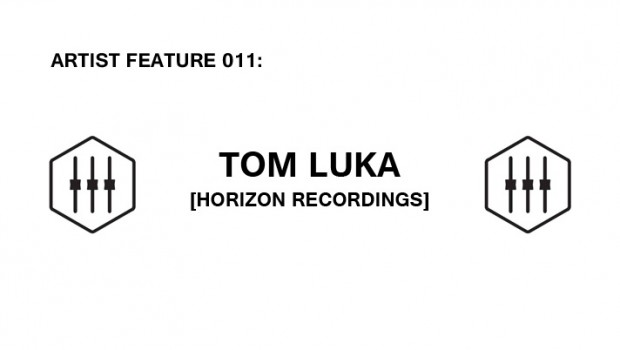 Published on October 31st, 2014 | by Lex
0
Artist Feature 011: Tom Luka [Horizon Recordings]
This week we got in touch with a talented entrepreneurial producer and now record label co-owner, "Tom Luka"; paving his own and others career paths in this competitive industry based on his own initiative to go all things solo. His record label is quite memorably tited "Horizon Recordings", and has come a long way from its first inception – with multiple releases from 9 artists, going as strong as ever into 2015.
Without further ado, let me hand over to the interview with Tom Luka, Enjoy!
How old are you & How did you get into producing music / how long for?
I turned 25 in September (which makes me feel real old every time I have to write it). I have always had a passion for music and played in bands through my teenage years but it was when I decided to do a music degree back in 2009 that I started to really get into electronic production. My early productions were of course terrible but over the last couple of years I feel I have managed to really find a sound that works.
What was the reasoning for using your name 'Tom Luka', rather than an alias?
Although my name is Tom my surname is not actually Luka. The alias surname is a play around my mums maiden name essentially, it just has a better ring to it on the whole than my actual name.
Who are your musical influences?
I know it's clichéd nowadays to claim that you have a really broad, eclectic selection of musical influences but I don't think you would be a very good musician or make very interesting music if you didn't. I am not going to list a load of obscure bands or artists in an attempt to seem cool, but simply say that I take influences from all kinds of areas, from obscure Noise or Post-Rock esq bands right the way through to more obvious modern day Dance music.
If you could compare yourself to an already established artist, who would that be and why?
This is always a difficult question, I suppose when it comes to the modern day big names I would say the style of some of my productions is kind of Dusky esq in the way I try to use simple but effective driving basslines and in the way I use vocal sampling, however perhaps with a slightly more raw edge to them in a similar vein to a Citizen or somebody of that ilk. Saying this on my new single "Shake" I feel I have ventured into slightly different territory and it is probably not really comparable to either of those artists.
I always feel like I am giving myself far too much credit whenever I am asked compare myself to other producers.
Did you start with the producing or DJ'ing side – do you feel that there is more pressure on DJ's now in the scene to start producing?
I actually started producing before DJing so for me it was simply a natural progression to take to the decks. I do feel though that although there are some fantastic straight up DJ's out there it takes something very special to really set yourself apart from the masses if you do not have a production string to your bow as well.
I was once told that people who started producing first are more likely to play their own music in their DJ sets while DJ's who take to production are more inclined to play other peoples music. This seems feasible as I am always so keen to road test new music but have friends who were DJ's first who are very shy about playing out their own productions. Think about that next time you are out and try and figure out which way round whoever you are watching may have done it.

Where do you usually gather songwriting inspiration?
Inspiration literally comes from all over the place, I can hear a single sound that will set me off or it could be a vocal line that I hear and simply have to sample. What I really like doing is going to live gigs and getting lost in the moment as when the music is simply flowing around you sounds can begin to morph in your head and ideas seem to spurn from nowhere, it is then remember these ideas after a few pints which is the problem but I guess that is what the notes and record sections on your phone are for eh!
What is your usual songwriting process / software?

I currently produce on Logic 9. Although I use a wide array of external plug-ins and instruments Logic does have some excellent built in units of its own!
My songwriting process will vary depending on what has inspired me to start writing. Sometimes I'll hear some nice percussive sounds that give me an idea and ill simply go and build a drum beat around that and see where it goes, other times it will start with a sample or a little lead or bass riff I have come up with, it generally varies but that at least keeps it interesting. I of course have a set of processes that I will generally stick to when it comes to mixing things like drums or processing certain sounds but otherwise I just try to let the ideas take the process in whatever direction seems right.
What would you say is your signature sound or style?
Generally my productions will naturally have a darker element to them, and if you couldn't tell by listening to my music I am rather partial to a choppy, deep & dark spoken vocal sample. I also like things to have a slightly raw element to them while still sounding smooth; hopefully this comes across in my productions.
Do you ever give your music away for free? Why?
From time to time I will give away free music. Sometimes it is just nice to be able to give a little something away and give back, but then there are also other reasons such as samples that would probably never get clearance or if the track is a remix for example which kind of forces your hand meaning it has to be free or kept in the dark. Giving music away can be a great way to gain exposure that you may not of otherwise, I often play various free downloads I have found in my DJ sets.
What do you think about online music sharing?
Nowadays I am thankfully in a position where I get sent a lot of quality music on promo anyway, but I have of course been guilty of the illegal downloading in the past. That said I do make a point of buying my music now as in the grand scheme of things it is hardly expensive.
This said with illegal downloading being so difficult to tackle especially for a small label or artist who does not have the time or resources to try and fight against it and with the increased amount of music both good and bad generally being given away for free and saturating online outlets such as Soundcloud I can see a point when trying to sell music may no longer be viable. You never know what will happen though and I am thinking years down the line so in the meantime at least, BUY MY MUSIC!
What do you think your listeners will get out of your music?
I hope that listeners can simply enjoy my music, obviously I want it to be danceable and to get people going but really I just aim to provide something that can make people stop, listen and ultimately feel. Whether these emotions are deep or more simple such as excitement, if your music can not invoke some sort of emotion for me it is not doing its job, so that essentially is my simple aim.
We love your forthcoming release titled 'Shake'- what were you thinking about / Inpsired you when this track was developed?
Personally I felt "Shake" was slightly different to some of my other productions I wanted to maintain the deeper, darker elements that I love so much but at the same time deliver something that was much more driven and danceable.
Sometimes writing a track can take some time and I'll come back to it on a few occasions but with "Shake" it just sort of rolled out quickly and effectively one evening over a few beers. I love it when things come together like this as it doesn't really give you a chance to think too much which allows things to just be natural and flow.
You are also part of TLXS with Salvador – what is the meaning behind the name and what have you released as part of this duo?
TLXS literally stands for Tom Luka & Salvador. Not very inventive I know but it certainly takes up less room on flyers. Currently we have only released one track as part of the initial Horizon Recordings compilation that we gave away upon our launch but there is more in the pipeline.
What does each of you bring to TLXS? Any releases planned?
It is generally always good to be able to get input from more angles. While one of us might be processing something or compiling a beat the other is analysing that process or section and assessing how it could be improved which means we are able to work quickly and creatively.
As I have said there is more in the pipeline from us as TLXS. We are currently working on new music and should have an EP out in the New Year.
Does the style of TLXS differ from that of your personal productions? If so how?
Even though I never set out to write a specific style, when I am working on my own things will generally be pushed in a certain direction. I guess the same can be said for working as TLXS. The way ideas bounce off each other is never going to follow the same patterns as a solo process so although the tracks may tip their hat to my productions they generally have a more dynamic and experimental twist to them. TLXS realistically offers an outlet for us to simply make music as naturally as possible and run with ideas that I may never normally consider.

This brings us on to your record label 'Horizon'- How did it being and what is this record label about?
It all started just about 18 months ago now when Matt (Salvador) came to me with the idea for a label. We literally discussed the basic ins and outs over a couple of beers and realised that we just had to do it. We both have a massive passion for making music as do so many of our friends and the other creative people within our networks, a lot of whom simply didn't know what to do with their pieces and we wanted to be able to provide an outlet.
Since then things have developed on and we have slightly more stringent A&R plans but we still maintain the ethos of trying to provide an outlet where creativity can have the freedom it deserves, and we still aim to give a chance to those people within our networks who are as passionate about things as we are.
We will end up rejecting a fair amount of music unfortunately but if you feel you have something good and can demonstrate the right attitude showing a passion for what you are doing we are always willing to listen.
Who are the producers currently under the label?
Currently we have released music by 9 different artists and this is set to expand before the end of the year.
At the moment we have Brighton based producer and good friend YTC who has had a couple of releases on the label, Southampton based Ape Like, my ex-housemate but now once again Jersey resident MarX, Bass city Bristol based Cellardore, as well as Jamie Ings, Outcry, CRAMR, myself (Tom Luka) and the late Kirby who sadly passed away earlier this year.
As I say we have plans for releases from a few new artists already in the works as well so you can expect us to be introducing some new names to you very soon.
If you have played DJ sets live, what was your favourite moment / venue?
I was lucky enough to play at Pacha in London earlier this year with Salvador that was a pretty cool moment considering the label was still so new. Otherwise the Horizon 1st Birthday at Above Audio last month was probably one of my favourite gigs I have ever done, it was so nice to see so many friendly faces down to celebrate with us and the vibe among everyone else from start to finish was just real fun.
Any funny stories?
Thankfully I have not managed to fuck up to any sort of catastrophic level when playing out yet, I am sure it is only a matter of time though.
Where do you hope to play in the future?
Ultimately it would be a dream to be able to play at one of the big dance music festivals, there are so many amazing festivals around Europe which I would jump at the chance to be involved with but more realistically in the meantime I am simply aiming to further establish myself on the local circuit in Brighton.
What are you and your label working on, can you give us any hints?
We have some excellent new releases coming up for you, including an excellent remix package for a new artist by the name of Paleface so keep an eye out for that. Salvador and myself are also hard at work on an EP as I say so hopefully more on that will begin surfacing soon.

Where do you see the label in 5 years?

Hopefully it will be a more full time thing. We aim to keep our release schedule moving along at the same pace as it has done so that would mean we would have had well over 50 releases by then and a lot can happen over the course of 50 releases so we will see.
What do you want to achieve with it?
Provided we can make people happy though the music we are putting out and hopefully give a few artists the break they need to launch their careers as well then we will be delighted. If we can make a full time career out of that then we will be living the dream.
What's your favourite track to listen to / include in your mixes at the moment by another artist?
Oh there are too many that I can't get enough of at the moment but to name a few…
New York, Baby by Bryan Kessler
Always On (Fabio Lendrum Acid Remix) by Ozzi
Can't Find A Reason by Marquis Hawkes
ZDS has just put out a wicked new EP too, as has Citizen and the first release on PMR Beat Club by Klaves is big as well.
Where can we see you playing next!?
I am going to be down at Brighton's famed Above Audio on Friday 31st October for Horizon's Halloween Special. Should be real good fun as I am playing an extended b2b with Salvador and YTC is also on the bill.
What are your future plans / goals / aspirations?
Aside from the Halloween party and work on the debut TLXS EP I have a few bits going on.
The New Year will see the release of a track called "The Piano Song" on Motion, as well as a new solo EP on Horizon that I am currently working on. I will also be continuing to spearhead the Horizon Recordings show along with YTC on CodeSouth.fm which airs live every Thursday from 12pm-3pm, collaboration between the pair of us on a track is not out of the question either so keep your ears open for that and keep your eyes on my pages for upcoming gigs!

Any shoutouts you'd like to make / thanks?
Obviously big thanks go out to yourself and The Purple Bay for your support! I also want to give a big shout out to everyone on the label for providing us with the excellent music, Kyle at Soundspace for his continued support, All the team at CodeSouth.fm, the one and only Pablo Contraband at The Unity Agency for all his hard work and help, my parents of course AND I can't forget my wonderful girlfriend Gemma for putting up with me.

Listen & PREORDER 'Shake' Here:
Listen & Listen & Download Tom Lukas Exclusive Deep House Mix for us!
Follow TOM LUKA below:
Follow HORIZON RECORDINGS below:
Official Website
Twitter
Soundcloud
Facebook